Posts for tag: oral hygiene
By David E. James, DDS
April 08, 2019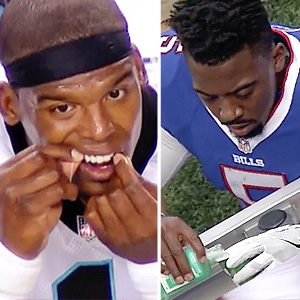 Everyone knows that in the game of football, quarterbacks are looked up to as team leaders. That's why we're so pleased to see some NFL QB's setting great examples of… wait for it… excellent oral hygiene.
First, at the 2016 season opener against the Broncos, Cam Newton of the Carolina Panthers was spotted on the bench; in his hands was a strand of dental floss. In between plays, the 2105 MVP was observed giving his hard-to-reach tooth surfaces a good cleaning with the floss.
Later, Buffalo Bills QB Tyrod Taylor was seen on the sideline of a game against the 49ers — with a bottle of mouthwash. Taylor took a swig, swished it around his mouth for a minute, and spit it out. Was he trying to make his breath fresher in the huddle when he called out plays?
Maybe… but in fact, a good mouthrinse can be much more than a short-lived breath freshener.
Cosmetic rinses can leave your breath with a minty taste or pleasant smell — but the sensation is only temporary. And while there's nothing wrong with having good-smelling breath, using a cosmetic mouthwash doesn't improve your oral hygiene — in fact, it can actually mask odors that may indicate a problem, such as tooth decay or gum disease.
Using a therapeutic mouthrinse, however, can actually enhance your oral health. Many commonly available therapeutic rinses contain anti-cariogenic (cavity-fighting) ingredients, such as fluoride; these can help prevent tooth decay and cavity formation by strengthening tooth enamel. Others contain antibacterial ingredients; these can help control the harmful oral bacteria found in plaque — the sticky film that can build up on your teeth in between cleanings. Some antibacterial mouthrinses are available over-the-counter, while others are prescription-only. When used along with brushing and flossing, they can reduce gum disease (gingivitis) and promote good oral health.
So why did Taylor rinse? His coach Rex Ryan later explained that he was cleaning out his mouth after a hard hit, which may have caused some bleeding. Ryan also noted, "He [Taylor] does have the best smelling breath in the league for any quarterback." The coach didn't explain how he knows that — but never mind. The takeaway is that a cosmetic rinse may be OK for a quick fix — but when it comes to good oral hygiene, using a therapeutic mouthrinse as a part of your daily routine (along with flossing and brushing) can really step up your game.
If you would like more information about mouthrinses and oral hygiene, contact us or schedule a consultation.
By David E. James, DDS
October 20, 2018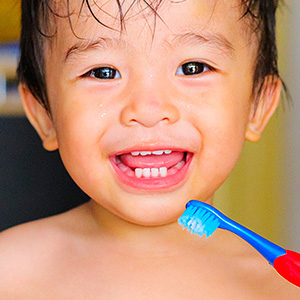 October is National Dental Hygiene Month. It comes as no surprise that good dental hygiene habits are best acquired early in life—and with good reason, as tooth decay is the most common disease among children. In fact, a full 43 percent of U.S. children have cavities, according to a 2018 report from the U.S. Centers for Disease Control. So how do you start young children on the path to a lifetime of good oral health? Here are five tips for instilling good dental hygiene habits in your kids:
Set a good example. Good—and bad—habits often start at home. Research shows that when young children notice other family members brushing their teeth, they want to brush, too. So let your child see you brushing and flossing your teeth, and while you're at it model good nutritional choices for optimal oral health and use positive language when talking about your own dental visits. The example you set is a powerful force in your child's attitude toward oral care!
Start early. You can start teaching children brushing techniques around age two or three, using a toothbrush just their size with only a pea-sized amount of fluoride toothpaste. If they want to brush by themselves, make sure you brush their teeth again after they have finished. Around age six, children should have the dexterity to brush on their own, but continue to keep an eye on their brushing skill.
Go shopping together. Kids who handpick their own oral hygiene supplies may be more likely to embrace the toothbrushing task. So shop together, and let them choose a toothbrush they can get excited about—one in their favorite color or with their favorite character. Characters also appear on toothpaste tubes, and toothpaste comes in many kid-friendly flavors.
Make dental self-care rewarding. Why should little ones care about good dental hygiene?  Young children may not be super motivated by the thought of a long-term payoff like being able to chew steak in their old age. A more tangible reward like a sticker or a star on a chart each time they brush may be more in line with what makes them tick.
Establish a dental home early on. Your child should start getting regular checkups around age one. Early positive experiences will reinforce the idea that the dental office is a friendly, non-threatening place. Children who get in the habit of taking care of their oral health from an early age have a much better chance of having healthy teeth into adulthood.
If you have questions about your child's dental hygiene routine, call the office or schedule a consultation. You can learn more in the Dear Doctor magazine articles "Do Babies Get Tooth Decay?" and "How to Help Your Child Develop the Best Habits for Oral Health."
By David E. James, DDS
June 12, 2018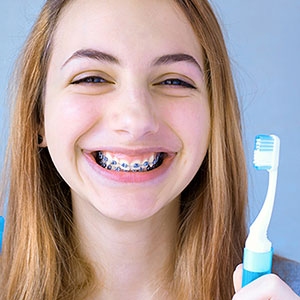 There are a few things you need to do — and not do — while wearing braces: avoid hard or sticky foods, for example, or wear protection during sports to avoid injury. There's one important thing, though, that should be at the top of your list — extra attention to daily brushing and flossing.
The fact is your risk for developing tooth decay or periodontal (gum) disease increases during orthodontic treatment. This is because the braces make it more difficult to reach a number of locations around teeth with a toothbrush or floss. Bacterial plaque, the source for these dental diseases, can subsequently build up in these areas.
Teen-aged orthodontic patients are even more susceptible to dental disease than adults. Because their permanent teeth are relatively young they have less resistance to decay than adults with more mature teeth. Hormonal changes during puberty also contribute to greater gum disease vulnerability.
There are some things you can do while wearing braces to avoid these problems. Be sure you're eating a nutritious diet and avoid sugary snacks or acidic foods and beverages (especially sports or energy drinks).  This will deprive bacteria of one of their favorite food sources, and the minerals in healthy food will contribute to strong enamel.
More importantly, take your time and thoroughly brush and floss all tooth surfaces (above and below the braces wire). To help you do this more efficiently, consider using a specialized toothbrush designed to maneuver around the braces. You might also try a floss threader or a water irrigator to remove plaque between teeth. The latter device uses a pressurized water spray rather than floss to loosen and wash away plaque between teeth.
Even with these efforts, there's still a chance of infection. So, if you notice swollen, red or bleeding gums, or any other problems with your teeth, visit us as soon as possible for an examination. The sooner we detect and treat dental disease while you're wearing braces, the less the impact on your future smile.
If you would like more information on taking care of teeth while wearing braces, please contact us or schedule an appointment for a consultation. You can also learn more about this topic by reading the Dear Doctor magazine article "Caring for Teeth During Orthodontic Treatment."